Back in September 2018, I started my flight training together with Gilles Grün, a very good friend of mine, we know each other since a long time and were also both involved in Skywatch aviation photography
(Read more at aeroartistry.net/genesis)
. We attended most of the theory courses together and helped each other out, learned together and did training flights in parallel. We both received our pilot's licenses almost together.
So after I received my license, only one day later, Gilles and I decided to get out and fly for the very first time together. We discussed about where to go, until we decided to fly to Koblenz-Winningen airport for dinner and come back again late in the evening.
The planned route went from Luxembourg airport (ELLX), above Spangdahlem and Büchel CTR, aswell as through the valleys of the Mosel river up to our destination airport Koblenz (EDRK).
Having performed all flight critical data, like creating flight plans, navigation, enroute weather and so on, we finally met up at the airport and preflight-checked our Piper PA-28A-161, registration LX-AIB.
We decided that I would be pilot flying for the leg to Koblenz, and Gilles would be pilot monitoring, to share our workloads a bit. For the way back to Luxembourg, Gilles was the pilot in command.
Having fuelled it was time for start-up, ground checks and finally for take-off. We left Luxembourg CTR via the north-west, heading to German airspace.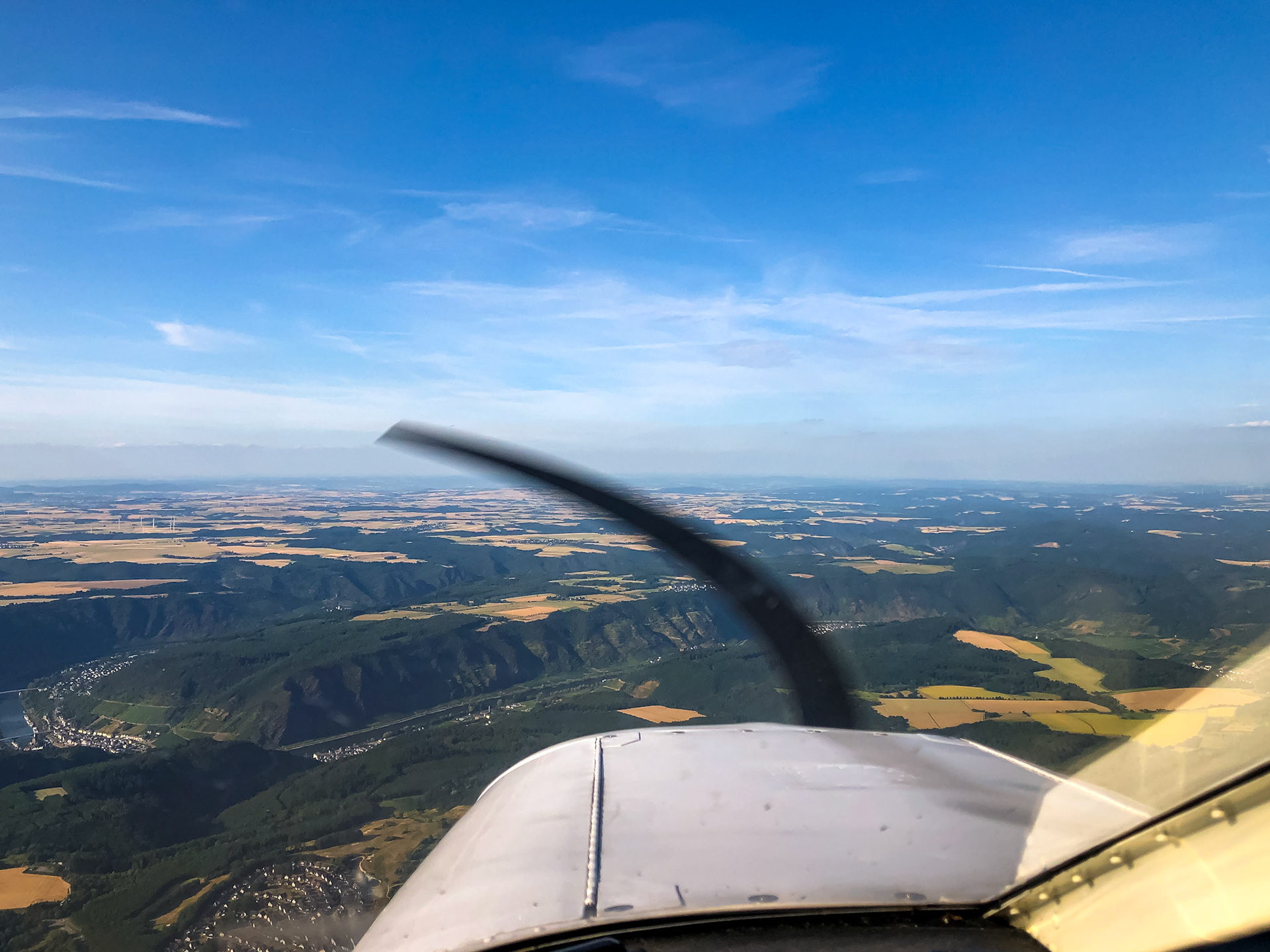 An uneventful flight passed over the beautiful german landscape, until we established Koblenz airport in the distance. We contacted Koblenz Info and were directed into the south circuit for downwind runway 24.
A rather bumpy approach awaited us, as the uneven terrain in front of the runway was throwing up some good turbulences due to the warm weather and intense sunshine. Wind 330 degrees at 9 knots.
Our choice for dinner was the local greek restaurant "Delphi". A rather friendly staff and a very nice view onto the runway and parking area while sitting on the terrace makes this place special. While waiting for our food and drinks to arrive, we had some good chats and observed some crosswind take-off and landings.
Half an hour later, our food was served and we were very surprised. I ordered the "Dorf-Teller" with different choices of meat, rice and salad. Absolutely great!
After a pleasant two hour stay, it was time for us to fly back home. On the way back now, Gilles was pilot flying, I only did communications and some navigation, so now I could use my DSLR camera to shoot some images.
We departed runway 24 with a very slight tail quartering wind and maintained heading 260 during our climb to 4500 feet.
During our cruise, the setting sun and unimagineable scnery from high above made me absolutely speechless, yet we did not realize that all this was actually happening. It was one of the most beautiful sunsets I ever got to witness until this day. This is what life is all about.
This sky was just surreal and amazing.
45 minutes in cruise, it was time for us to start the approach and switch over to Luxembourg tower. We approached Luxembourg CTR from the north, entering it via Mersch.
We were directed to runway 24 and joined the downwind, where we had to orbit for inbound traffic.
The landing traffic passed by, so we were cleared to land RWY 24. Very light, 4 knot head wind was reported on the surface.
Gilles brought us down with a soft touchdown. We vacated the runway and taxied back to the hangar facilities. 
A last glimpse into this fabulous sky before we closed the hangar doors and this surreal flight ended. We finished all necessary paperwork and with a smile we walked outside the airport, still both were we not realizing what we actually just did.
An amazing and very special day came to an end, a day I won't forget for the rest of my life. My first day as a pilot.