As everybody may hav

e noticed, 20

20 is not a year of luck, development or advancement. Rather a year of chaos, for mankind a journey through uncertainties and unknown new diseases and viruses due to COVID-19, endangering the world's population and thus creating economical crises in nearly any imaginable business around the world.
Aviation, unfortunately, is one of the businesses with the hugest setbacks; hundreds of thousands of unemployed pilots, cabin crews and ground workers are the leftovers of the unforeseen and unstoppable Corona virus, nearly completely shutting down commercial operations for passenger transportation. 
As many European countries closed their borders due the alarming rise of new infection cases of this deadly virus, there was no chance for anybody within the first half of 2020 to travel anywhere abroad. 
After the situation calmed down a bit and France suspended their entry ban for tourists, it was time for us to plan a weekend trip to escape the rather boring everyday life at that time and get some sunshine on our skin.
A handful of guys of the young pilots Luxembourg aviation club, 10 to be precise including me, planned a trip to Annecy, located in eastern France. Annecy has always been a destination for Luxembourg's general aviation pilots, as it is only a short 2 hour and 30 minutes hop away by airplane.
A bit later, as the plan was established and the dates were set, from 7th until 9th of August 2020 to be precise, we met up at the club's premises two days before the actual departure date for a detailed briefing for the upcoming epic weekend trip. 
One day later, the evening before our departure day, my girlfriend Anne-Marie and my good friend Gilles met up in order to clean and fuel our beautiful Cessna 172S Skyhawk SP. It is always good to be well prepared, so I did a thorough and extensive pre-flight check on the in- and outside aswell. 
After a chilly two hours in the hangar it was time to head back home and get some last things sorted out for our trip. Camera equipment, our luggage, inflight snacks and beverages - and of course, last but not least - my flight gear. 
Then finally, another 3 hours later, it was time for us to go to bed, being completely excited for our upcoming adventure.
The next morning, we woke up at around 7a.m. Excitement arises; quick shower, breakfast and a cheeky little coffee. Then it was time to throw the baggage in the trunk and fire up the car.
An easy half an hour drive later, we arrived at the airport. Gilles came just one minute later so we all walked to the hangar together.
We were warmly welcomed by all others that were joining us to Annecy. 13 people, all flying in 4 aircraft in total. As I briefed last details and chit-chatted with the pilots and later checked last weather updates and NOTAM's, Anne-Marie and Gilles were already loading up the plane according to our mass and balance report. 
Following our briefing, takeoff time was scheduled for 0915l.
09:08l: It was our turn now. Time to fire up the hawk; CLEAR!.....Alrighty, temperature and pressures in the green; my engine is doing fine this morning. Taxi light on, brakes off - ready to taxi.
While performing my run-up on the apron, I heard our sistership LX-AIO being cleared for takeoff already. 
Time to get the ATIS; runway 06 in use, wind 060° at 8, CAVOK, temperature 24, dew point 12, QNH 1022 - sounds promising. Just as expected!
Two minutes later, following my run-up and thus being sure that all systems work as they should and after having entered our flightplan into the MFD of the G1000, it was time for us to call the tower.
We were instructed to taxi to intersection Golf for runway 06 and the QNH to be set to 1022 hPa. A short moment later, I requested a shortcut for our departure route and a direct climbout to FL95, making it substantially easier for us and thus saving some time and avoiding local restrictions on our intended route.
The friendly controller in Luxembourg accepted our request and we were cleared to visual reporting point Tango next. A minute later, we were cleared to line-up onto runway 06.
"Lima-India-Echo, wind 070°, 6 knots, runway 06 cleared for take-off. After departure contact Luxembourg radar on 120.885."
Before reaching the first waypoint, it was time to engage the autopilot. ALT SEL to 9500ft, flight director on, ALT mode on, NAV mode on; autopilot engage!
Flight level change mode on, climb speed set to 80 knots - our Cessna is now completely flying on its own, safely bringing us up to our cruise altitude of 9500ft. 
Flying at our cruise level, we all agreed that breakfast would be a thrill. So my girlfriend got the foodbag from the backseat. Abolutely great, she is a legend!
The next 1,5 hours of flight were easy, not too busy and friendly controllers on the frequency, guiding us through many local restricted zones. Some time later, the mountains of the Alps slowly became visible on a hazy morning horizon. Insane sight.
As we were flying further down southwards, we came closer to Geneva airport. We were all hoping to get the transition to Annecy via the Geneva VOR at FL95. Unfortunately, due to too much outbound traffic at Siwtzerland's second busiest airport, we were redirected further to the west, heading direct to Chembéry VOR. It was now very busy on the frequency and there was almost no time for photos. Furthermore, due to thermal convections being thrown up by the rising terrain below us, the air became quite turbolent after decending below 2000ft AGL.
We were now instructed to stay west of the Rhône river until passing Chambéry VOR and to stay at 3500ft AMSL or below, in order to avoid the busy TMA of Geneva airport.
Minutes later, after turning left over CBY VOR, we had an epic view onto Lake Chambéry and the famous Rhône river.
We had to contact Annecy tower next in order to enter their control zone. The controller cleared me on a direct approach into runway 04. I turned left by 60°, using the heading mode of the G1000, leading me on the runway track of 038°. Shortly later, I disconnected the autopilot at approximately 6 miles final.
Following a stable and calm approach, we touched down at Annecy's runway 04. In order to avoid delay on the day we planned to fly back home, we decided to refuel our birds again right after landing, in order to be almost ready for departure that day.
We vacated right via taxiway Charlie and then continued along the apron via taxiway Golf 4, then over lane 7 to the fueling station.
Having fueled somewhat around 50l of fresh 100LL, we had to taxi to our parking position. Real legends were the guys working at Annecy airport. Super friendly and helpful.
Next we had to pay our fuel at the fueler's office, then we left the airport through the tiny but nice terminal building.
A little later, we walked to the bus station just outside the terminal. We waited for around 10 minutes for the next bus to the city center from where we walked to our hotel.
We booked the Mercure Hotel in the city centre of Annecy. The price was quite ok for the region, the rooms were not kingsize but definitely enough to have e pleasant stay. Everything was clean and tidy aswell.
After we brought our stuff to the hotel, we headed out to the city centre for lunch. Delicious local French food here, however, quite expensive if you compare it to other French regions.
After lunch, it was time for us to get our rental cars. We booked a 9 seater van and a normal 5 seater car, enough to fit us all in well. Then we hit the mountain roads in order to see the surrounding mountains and Mont-Blanc from near-by.
After a rather bumpy ride through the curvaceous mountain roads, we finally resched the top. What a view the first glimpse out of the window revealed us. Insane.
We had to tramp uphill another 300m by foot to the very top of the mountain. Quite exhausting with a temperature of 29° up here!
However, all the effort payed off as we were surprised by these incredible views over the alps. What a feeling.
Despite the urge to stay little bit longer up here, we had to move on, as our schedule for that day was rather tight. I soaked in the panoramic view over the Alps once more before we walked back to the car parking again.
Following this epic stop up there, we had a mind-blowing 50 minute ride through the tiny roads in the valleys of the mountainous area surrounding the lake of Annecy.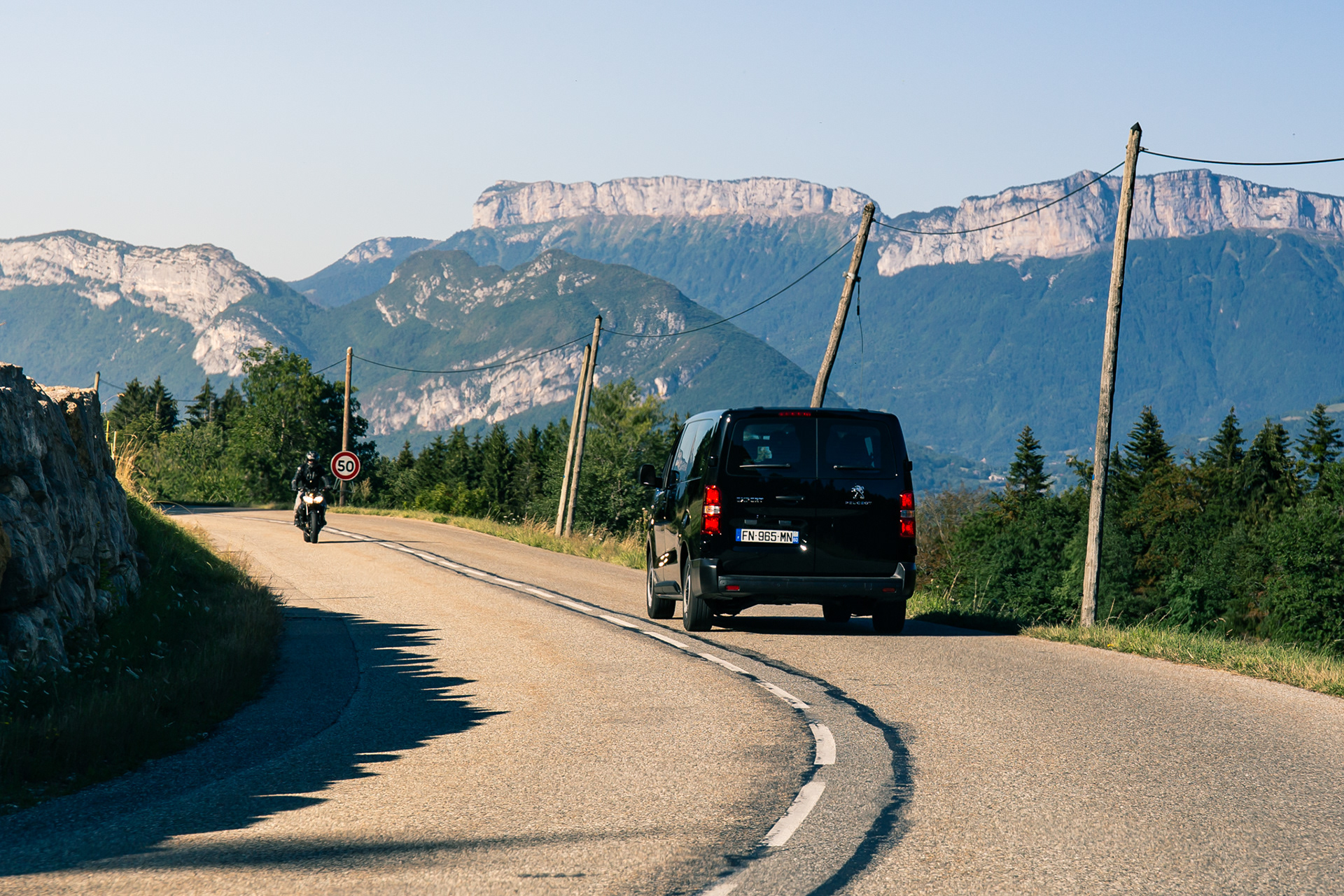 Almost one hour later, we then reached our last mountain top for that day. It left me absolutely speechless driving up the hilly dirt roads, not expecting anything and then being absolutely mind-blown by the views that reveal to me behind the next hill.
I think I don't need many words here to explain my feelings up here. Let these views soak into you. This is pure epicness.
Speechless, we left this impressive place a little later again, driving to our next destination through the dusty mountain roads. Even our GPS lost track of us through these tiny little streets.
Our next destination was the "L'Edelweiss" restaurant in Col de la Forclaz for dinner. We parked our car a couple of hundred meters down the road, as it was very busy by the time we arrived there. 
According to the guys who have been in Annecy before, it is a must to try the local cheese fondue. So the decision of what we would have for dinner was quickly made.
The fondue tasted amazingly good, aswell as all the rest that was served, such as the fresh crunchy bread and the salads.
As digestif, we tried the famous local Génépi schnapps. Génépi is made from herbs and plants that grow in this region in mountainious terrains as of an altitude of 1600m. Also this little fruity drink surprised me a lot with its amazing taste.
The Edelweiss restaurant also offers a breathtaking view onto lake Annecy, while enjoying your dinner with the setting sun in the background.
Later that evening, we went into the city center of Annecy, heading for a beer bar, the so called "Beer o'clock". This beer bar is quite well know over here and offers many differnt kinds of beer to taste. 
The priciple is held very simple. On your first visit, you'll receive a "Beer o'clock" payment card, which can be prepaid by an amount you wish. Now, if you choosed a beer you would like to taste, you'll just have to put your glass underneath the tap. Every beer tap station has an RFID card reader, which triggers the tap to pour out your beer of choice right after you placed your card on the RFID reader. If the glass is filled, just remove the card and get to your friends, at one of the wooden tables on the in or outside and enjoy your beer with a very unique flair around.
After an amazing night out, it was time for us to go to the hotel and take a shower, before we eventually went to bed.
The next morning, we decided that we would dedicate our upcoming day for a trip through the city. We visited the castle of Annecy and went for a shopping tour through the tiny streets and alleys.
Later that day, we walked to lake Annecy for a swim and some sunbathing. Even though the water from this lake comes from the glaciers, it is quite warm, very clean and very enjoyable. 
As we soaked up the warm sunrays on this hot day, we planned where to go for dinner. Our choice for our last night out was the famous "L'Étage" restaurant in the city center.
After our visit to this nice resaturant, we had a walk through the city. Later on, we were heading to the hotel to get some sleep before our trip back to Luxembourg the next day. 
I planned our route the night before departure. Our flight back home would take us through the valleys of the alps and then along the famous Mont-Blanc, before crossing lake Geneva later on.  
The next day we got up a bit later, as we didn't have many plans for that day. We met up around noon in front of the hotel and walked to a restaurant for lunch. 
They had amazing sea food to offer, from lobsters over mussels up to sea bass. I kept it very simple this time by going for fish and chips with a salad. Amazingly good.
After lunch, we walked a bit through the city to purchase some souvenirs and to get some ice cream.
Then finally, it was time to pick up our stuff in the hotel and get a taxi to the airport. We had some time in the terminal before our flight, which I used to get some shots from our parked aircraft from the outside.
Fifteen minutes later, we grabbed our luggage and walked over the tarmac to our aircraft.
Now it was time to get my Skyhawk ready, doing the preflight inspection, loading in the luggage and get my cockpit set up for our trip back home.
Before we finally hopped in our planes, it was time to get some shots of our aircraft and a group photo of us all.
Eventually, we fired up our engines and taxied out to the active. We were all assigned to a squawk code during taxi out. Runway 04 in use. I was number 3 for departure.
We had to struggle with a density altitude of 5100ft at the time of departure, with your plane almsot fully loaded and fueled up.
After a tenacious climboud of Annecy airport, we turned right over lake Annecy for our planned route though the Alps.
We climbed initially to FL95, while soaring through the valleys. We had some amazing sights for the next upcoming thirty minutes.
My buddy Laurent was the last one to take-off with his faster Cessna 182, so a little later he overtook us from the right. Time to get some air-to-air shots!
After Laurent has passed us in his 182, we saw Megève airport already below us. Must be fun flying there!
Moments later, we glazed out the front and we were nothing alse but speechless. The massive Mont-Blanc was coming up. Insane.
No words needed to describe it any further. Those are the moments that make you feel that all the effort to become a pilot payed off again. Enjoy.
Being completely blown away by the sight we just witnessed, I set our course direct to our next waypoint which would lead us through a valley ending on the south side of lake Geneva. As we leveled off at our cruising altitude of FL95, it was time to sit back and take a sip of water.
After passing lake Geneva, the flight back to Luxembourg remained rather unspectacular for us. With the autopilot set and the more familiar regions slowing coming closer to us, we left this unique surroundings finally behind.
A little later into the flight, we were all apart by only a couple of miles so we decided to make some more air-to-air shots.
As we looked down the horizon, we saw some towering cumulus on our intended route, so I set my secondary radio to Luxembourg ATIS. 
"Wind 060 at 15, scattered towering cumulus at 7600ft, temperature 30, dew point 14, QNH 1016".
With no time to lose, I set my course direct to entry point REMIK. None of us would like to take the risk to be airborne longer than needed, as the atmosphere was prone to thunderstorms that evening.
The autopilot descended our plane to 2000ft before I took manual control of the airplane again. We entered the CTR via REMIK, inbound to land on runway 06.
While turning final, we received our landing clearance for runway 06, with a 747-400 of Silkway and a Ryanair 737-800 holding short.
After a smooth touchdown, we taxied to our hangar via intersection Foxtrot and taxiway Bravo 3. 
Our sistership LX-AIO was already standing in the hangar upon our arrival. After we hopped out of our Skyhawk, also the last aircraft of our flight of four taxied in.
After we got our stuff off the plane, my girlfriend Anne-Marie cleaned and disinfected the airplane from the inside, while I was whiping off the wings and doing a post flight inspection.
The moment has finally come. It was now the time to close the hangar's door and get the logbooks done, our unforgettable journey was over. 
Well, almost. What would be such an epic trip without a beer and a pizza after such a long flight, while chit-chatting with your friends on the hangar's roof terrace?
I want to thank every individual person who joined me on this trip by making it so special, legendary and of course unforgettable. 
Very special thanks go out to Chris Lanser and Laurent Schneider for the organisation of the whole weekend and to my girlfriend Anne-Marie Bertemes for helping me out a lot in the air aswell as on the ground and for always being my second watchful eye. You guys rock!